Sophos XG Firewall -?Ultimate Firewall Performance
Unrivaled Security, Simplicity, and Insight
With features you just can?t get anywhere else.
XG hardware appliances with FastPath provide lightning-fast performances

Synchronized Security links your endpoints for advanced protection

Control Center and rich on-box reporting provide unprecedented visibility

Full suite of network, wireless, IPS, VPN, web, app control, email, and web application firewall technologies
Instant Insights
Sophos XG Firewall provides unprecedented visibility into your network, users, and applications directly from the all-new control center. You also get rich on-box reporting and the option to add Sophos iView for centralized reporting across multiple firewalls.
Click the items on the control center for more information.
System Panel
The system panel displays the real-time status of system performance, services, connections, and other system parameters. Green indicates everything is fine, orange indicates a warning, and red indicates something needs immediate attention.
Each item is clickable to reveal additional details and graphs, as well as helpful system and network tools you can use for troubleshooting purposes such as ping, traceroute, packet capture, command-line access, and much more.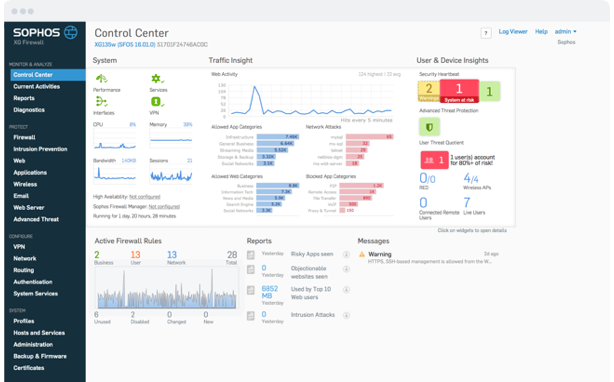 Monitor Network Health
XG Firewall not only monitors host network activity, but also receives health status directly from your endpoints so you have constant visibility into the health of your entire network.
Identify Infected Systems
XG Firewall instantly alerts you to compromised systems on your network with full details including the IP address, the user, and the process, so you're not left digging for information.
Automatically Isolate Infections
XG Firewall uniquely integrates the health of connected hosts into your firewall rules, enabling you to automatically limit access to sensitive network resources from any compromised system until it's cleaned up.